Branching Out Progress!
Hello all! I started Branching Out last night. I was very excited because I've only ever finished one project before (and it needs... fixing), and this is my first lace project. I don't usually have the urge to do scarves because they bore me, but this pattern was so gorgeous!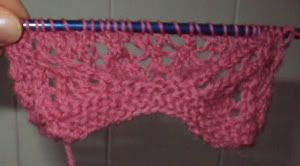 Anyways, there's mine. (Sorry about the bad picture). I have one repeat done. The yarn is Peruvian Collection Baby Cashmere. The colour is Rose Heather. It does stretch out and shows the pattern really nicely. I messed up once, but it's not that noticeable so I just kept on knitting.
Eventually this will be a present for my mother for her birthday/mother's day (they're only a couple days apart).
I can't believe people finished knitting their scarves so fast! I'm definitely a slowpoke.