Completed Branching Out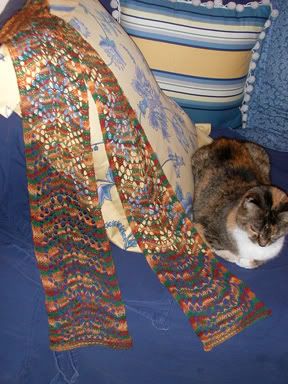 Yarn: Knitpicks Gossamer, in Trail. (Matches rather nicely with Ripley the cat, seen here in tortoiseshell.)
Needles: US 7
Pattern repeats: No idea! After blocking, it was 66" long and about 6" wide.
The colors are beautiful, and go very nicely with the pattern IMHO. I did my best to block it, using mercerized cotton stretched along the sides, but I only left it out long enough to dry completely (six or seven hours--I needed my bed to sleep in!) When draped around the neck, the center panels stretch a bit and the pattern in that section gets a little bunched, but I think that might just be the nature of super-stretchy merino. But the rest of the scarf stays very open and lacy, so no big deal.
This pattern was a lot of fun to knit, I'll definitely be making another. I bought some Silky Wool to start one for a friend, but I'm rather annoyed at how much chaff is in that yarn! I might just use the rest of the Gossamer that I have left over from this one to knit it.